Anton Hermansyah The Jakarta Post
Jakarta | Fri, March 30, 2018 | 04:49 pm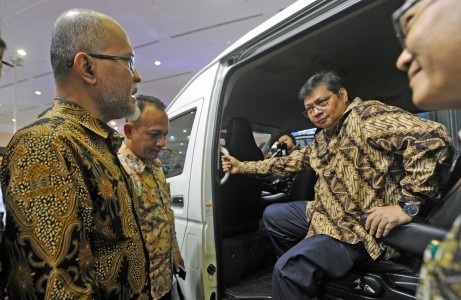 Trade Minister Airlangga Hartarto steps out from a vehicle displayed in the Gaikindo Indonesia International Commercial Vehicle Expo (GIICOMVEX) 2018 in Jakarta on March 1 as PT Toyota Motor Manufacturing Indonesia (TMMIN) president director Warih Andang Tjahjono (left) looks on. The government plans to promote the application of internet of things (IoT) in its policy road map to prepare for Industry 4.0 and the automotive industry is set to be among the first to do so. (Antara/Audy Alwi)
The Industry Ministry will soon issue the road map, which will detail necessary efforts to support automation and data exchange in manufacturing technologies.
Minister Airlangga Hartarto said on Thursday that the implementation of IoT, believed to increase efficiency in production, would start from the automotive and food and beverage sectors.
"We will hold an industrial summit on April 4 and there will be a showcase on IoT implementation in the industry, so the public can learn about how it will work," he said after a meeting at the Office of the Coordinating Economic Minister.
IoT is the interconnectivity among physical devices using the internet as the backbone. The term covers the use of smartphones to biometric implants.
In response to concerns over employment in Industry 4.0, Airlangga said the government had addressed the issue on the road map so the industry could generate more jobs despite the surging application of automation.
"The implementation of IoT will open new job opportunities. Factories will also expand, so don't worry about shrinking employment," he said. (lnd)
source: http://www.thejakartapost.com/news/2018/03/30/industry-40-road-map-to-promote-iot.html